About the Film * The Director * Screenings * Press * Talk Back * Educational Use
General Discussion Teen Forum Educators
We enjoy when audiences from television broadcasts, film festivals, and community screenings share their experiences watching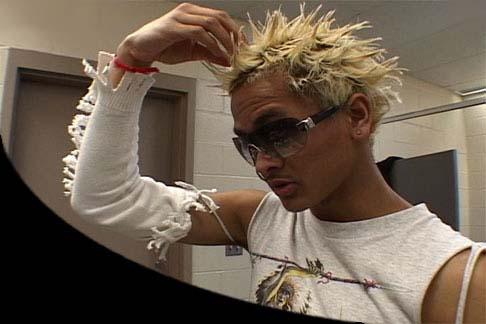 Monkey Dance.
What moved you about the stories in the film?
Have you, a friend, or family member gone through similar struggles in your lives?
What do you think makes these teens exceptional?
Please join in the discussion below and encourage any teachers you know to use the film in their school, university, or community group. You can also email Linda, Sochenda, or Samnang directly if you have a question for them.
A terrific film. I thought the pacing, editing, music were all just excellent, and you integrated the historical footage so nicely. Linda's struggles, in particular, reminded me of my Cambodian-American character's struggles–pressure from family to be a good Cambodian girl, pressure to be both respectful and aware of her heritage, pressure to follow her desire to be hip and have a rockin' social life. I was struck, too, as usual, by the massive influence of hip-hop culture in teen life, Cambodian-American kids no exception.
I am so glad I did not miss this program – I had no idea what to expect but am fascinated by other cultures and this program provided such insight into the lives of Cambodian-American young adults (and their parents). I didn't want it to end and I would love to know how Linda, Souchenda, & Samnang are doing (do any of y'all have blogs?) I was deeply touched by the film and the people in it. Thank you everyone for giving me a glimpse into a life/world I otherwise wouldn't have seen – I now see all Cambodian dancers/dances with such a different perspective and understanding how deeply rooted it is in your culture and has been for thousands of years has given me such a greater appreciation for what you do – I will seek out other opportunities to watch these performances.
It was a gripping theme…Kids, whose parents suffered and sacrificed, risk wasting it all by taking on values of the culture that leads to most males dying before their 24th birthday and most females having kids out of wedlock…Tricking out cars, racing, hip hop and objectification of women runs high in those circles of poverty (both financial AND social). Sadly, even getting into college is a diminished achievement nowadays as most universities accept students who can't even read at high school levels…Ghetto attitude is a point of pride with these characters. To the ghetto they will belong until they realize that they are on the highway to a dead end. Out of the many documentaries I've watched on the subject (the POV one on kids in the Hmong community in California being the other captivating one), this one provides the most hollow of pictures. Doing what you're supposed to do (according to their parents' dreams and desires) and what they WANT to do (race cars, do the urban thing, etc…) leaves a big gap to be filled.
I was extremely touched by the plight of these first generation Cambodian teenagers. My parents escaped oppression, starvation and hardship in China so that my siblings and I could have a better life. At times I have been overwhelmed by the sense of duty I felt to make their sacrifice worthwhile and I fully empathize with these young people's struggle to honour their heritage while being influenced by North American values. But like these young people I came to appreciate my history and it now serves to provide me strength in all of my endeavours .
saw the documentary last night and was really touched by it. I myself was born in Cambodia during the Killing Fields and grew up in the refugee camp. For me, I have a deeper understanding of my parents and their culture, more so than the ones born in the US. I believe this film has highlighted the importance of history and heritage and how that can brigde the gap between younger generation and their parents. When young Cambodian-Americans understand their past then they can understand their present & future. A great film to inspire young Cambodian-Americans to reach out and try to gain a better understanding of their past and culture so they won't be lost in this modern society.
What a touching, beautifully put-together, and inspirational documentary about second-generation Cambodian teens and their families. I feel informed about the motivations and stumbling blocks they face and wonder now how I could help smooth the way for young motivated immigrant students in my community. Thank you for airing this excellent film.
It was so inspiring to see the documentary about Cambodian-Americans living on the other side of the US. I've heard so much about my peers in Lowell but never had the opportunity to visit or speak with anyone from there. Although we are separated by miles and miles of land, our stuggles, dreams and aspirations are the same. Being a second generation Cambodain-American, I am so honored and humbled by the show. It gives me hope to know that although we live in America, our heritage, history and the scarifices that our parents had to make will not be in vain.
I JUST WATCHED YOUR PROGRAM I LOOOOVED IT SO INSPIRATIONAL I CAME FROM A SOUTH AMERICAN COUNTRY @ THE AGE OF 19 HAD 2 START WORKING RIGHT AWAY AND NOW I HAVE 2 CHILDREN OF MY OWN AND I TRY TO ENCOURAGE THEM TO LEARN AND STRIVE FOR THE BEST THEY ARE ONLY 11 AND 5 YRS OLD BUT I AM PLANTING THOSE SEEDS OF COURAGE AND AMBITION. MAY GOD BLESS THOSE CHILDREN AND MY SYMPATHY FOR THE LOSS OF THEIR FRIEND AND I HOPE THEY CONTINUE TO HAVE GOOD MEMORIES OF HER. THANKS AGAIN WONDERFUL SHOW MAY YOU SHOLD DO A SHOW ABOUT CHILDREN FROM GUYANA SOUTH AMERICA.
As the son of a Pilipino immigrant, my father went through similar circumstances as your film's main characters. Your film really reminded me of lucky I was to avoid the emotional and financial hardships attached with growing up poor in an unfamiliar culture. Lately I've had a growing awareness that I need to give back to the Asian community in Boston – after the screening yesterday something inside told me "it's time".
-Christine, Lynn, MA
Some scenes are funny and sad. It shows the real life over there of my people. I felt that it is a very pure and natural movie. I do appreciate what you have done.
-Rith, Phnom Penh, Cambodia
it's been long overdue that a story about Cambodian/second-generation Cambodian-American has been told. It reached me to a tee, about the hardship and struggles that young Cambodians and their families don't always see eye to eye. The other part is this story, Monkey Dance, actually connects that barrier with the culture through the dance troupe. I too have family that live in Mass…They work hard to raise their children just like everyone. In Monkey Dance all participants—Sochenda, Linda and Samnang—are well-grounded individuals who know their roots as well their American upbringing.
-Thoul, New York