About the Film * The Director * Screenings * Press * Talk Back * Educational Use
Julie Mallozzi is a documentary filmmaker based in Boston, Massachusetts. Her films explore the linkages between cultures thrown together by history,
between social and personal stories, and between past and present. The subjects are often people who were displaced from one country to another, and manage to fuse or hybridize cultures in order to succeed in their new circumstances. At the heart of Julie's interest are the ways in which we "repurpose" culture and history to address contemporary social problems.
Julie's films have won awards at festivals around the world and have screened in museums, universities, and on public television. Her debut film, Once Removed, tells the story of meeting her mother's family in China and learning about their involvement in China's complicated political history. Her recent film Monkey Dance reveals how traditional Cambodian dance helped three Cambodian-American teens navigate the minefields of urban adolescence. Julie's current film investigates the aging of a French-Canadian woman, originally from India, who lost her skin color and became White.
Julie grew up in rural Ohio with a Chinese mother and an Italian-American father in rural Ohio – where her family managed a Native American historical site for 20 years. She received her BA in 1992 from Harvard University, where she studied with Robb Moss, Alfred Guzzetti, and Dick Rogers. She is currently completing coursework for an MFA from San Francisco Art Institute.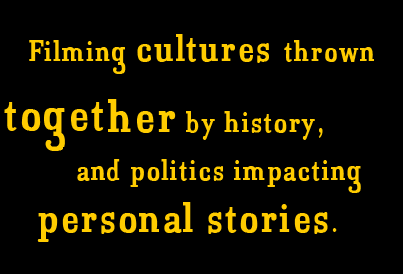 Julie works in many different roles as a freelancer in Boston's lively documentary community. She has served as editor or consulting editor for a number of filmmakers, including Ross McElwee. She field produced the China segment of Six Billion and Beyond, a PBS documentary about reproductive health and population policy. She worked on WGBH's Americas, a ten-part series about Latin America; Born Under the Red Flag, the third program in a trilogy about contemporary Chinese history; and Pictures from a Revolution, about Susan Meiselas's experiences as a photojournalist in Nicaragua.
Julie has taught filmmaking at Harvard University, Massachusetts College of Art and Design, Boston Film/Video Foundation, and the Institute for Contemporary Art. She also produces educational and outreach films for community organizations, and is a co-organizer of Boston's Filmmakers Workshop salon for area mediamakers. She lives with her husband, Dutch composer/musician Jorrit Dijkstra, and their daughters Maya and Sonia.
Go to Julie Mallozzi Productions website • Email Julie