About the Film * The Director * Screenings * Press * Talk Back * Educational Use
General Discussion Teen Forum Educators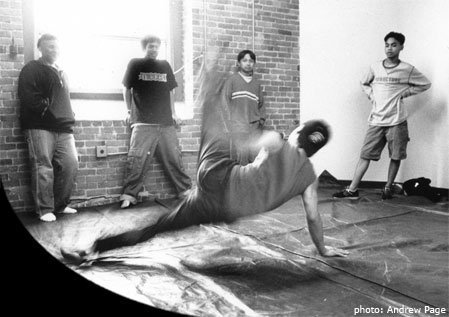 Welcome to the teen section of our website! Because Monkey Dance follows three kids growing up in America, we're especially interested to hear what young people think when they see the film.
Do you have anything in common with Linda, Samnang, or Sochenda?
Do you think Monkey Dance captures what it feels like to grow up in America?
Do other teens you know have some of the same obstacles and choices in their lives?
I really feel great when i saw the show the last night. Its was inspiring to me, when I seen dis show about Cambodian teens that really work hard for themself. Im a Cambodian teen also but I couldnt make it through just like them. I wish them the best..and keep the Cambodian pride alive. Keep up the great work guys
-Kyle, Dallas, TX
This documentary has the ability to move audiences because it accomplishes to make people think of all the things they have and be grateful for them. The way in which this film presents the true stories and harsh realities of real people, rather than causing pity, it inspires one to be a better person. Personally, Monkey Dance was a reminder that we are nt alone in this world, and that even the thinks we night consider insignificant can help us stay afloat in a sea of contrasting ideologies.
-Laura, Toronto, ON
Wow. It makes me more depressed that I know little about my own culture. I love this documentary. It almost made me cry because it hit home for me.
-Beverlie, Lowell, MA
Monkey Dance was amazing. I hadn't known much about the Cambodian culture before, but now I want to learn more.
-Sara, Lowell, MA